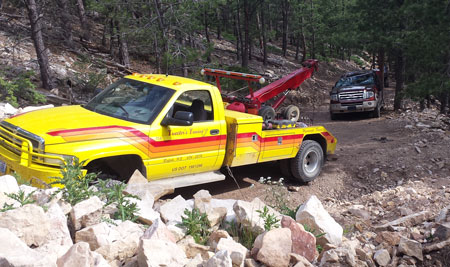 In the event of an auto accident, let Superior Towing & Recovery assist you in the reclamation and removal of non-drivable vehicles. Our roadside recovery in Buffalo, WY ensures all wreckage is swiftly and appropriately accounted for. Whether your vehicle is totaled or has simply suffered damage to one of its critical drivetrain systems, we're on hand to help you get it off the road and in for repairs or to the local junkyard.
Our state-of-the-art recovery equipment can assist with a wide range of recovery situations, and we're familiar with the full gamut of recovery work, including:
Wrecks and car rollovers: For major auto accidents, it's imperative that vehicles are removed from the scene and taken to the appropriate location, even when out of commission. Our team safely removes vehicles in any condition and swiftly transports them to their appropriate destination, be it an auto body shop or a scrapyard.
Air bag recovery: For semi-trucks, Class 8 vehicles, motorhomes and other oversized autos, we utilize air bag recovery. This process involves inflating a huge cushion under the vehicle to return it to an upright, towable position. No matter the size of your damaged vehicle, we're equipped to recover it.
Through our many years of experience, our professional staff are knowledgeable on protocol when it comes to proper removal and disposal of wreckage. No matter the nature of the accident or the severity of the situation, know that our team is standing by to resolve it in a professional manner.
We understand how scary an accident can be, and strive to alleviate as much stress as possible. Our wrecker service in Buffalo, WY and surrounding areas makes the vehicle recovery process as painless as possible, so you can focus on what matters most: your health and wellness.
For more information about our recovery and wrecker services, please contact us today by calling 307-684-2274.