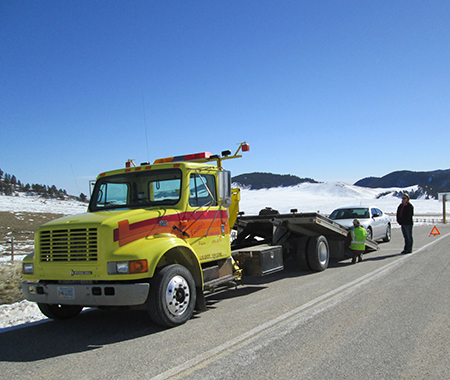 It's no fun to be stuck on the side of the road. From an overheated engine to keys locked in your cabin, it can happen to anyone at any time. At Superior Towing & Recovery, we provide drivers with peace of mind in knowing we offer our 25 years of automotive expertise as 24 hour roadside assistance in Buffalo, WY.
Assistance in Any Situation
Need help with a flat? We can fix it. Out of gas? We deliver. Superior Towing & Recovery is the go-to provider for your Buffalo, WY emergency roadside assistance needs. We work with AAA and OnStar so we're there when you need us most. Our 24-hour roadside assistance services are designed to help drivers with:
Jumpstarts: Dead batteries don't have to be your bane on the side of the road. Give us a call and we'll provide you with a quick jump to restore power and get you back on the road.
Fuel deliveries: If your gas tank hits "E" and you're too far from the next fill-up, give us a call. We'll be on our way with a spare gallon or two, to get you to your next destination.

Lockouts: It's easy to accidently lock your keys in your vehicle. If and when this happens to you, give us a call for non-invasive access back into your vehicle's cabin to retrieve your keys.
Extrication and winch-outs: Stuck in a ditch? We're ready to come to your location and quickly pull you out. If your wheels are spinning and your vehicle isn't going anywhere, make us your first call.
Minor roadside repairs: Anything from debris to vehicle age can cause malfunction on the road. If you're sidelined with damage, know that we're ready to offer you minor roadside repairs.
We pride ourselves on customer satisfaction, which is why we aim to get to your location as quickly as possible. We provide fast and skilled help any hour of the day or night. When the unexpected happens, waste no time in calling Superior Towing & Recovery: your trusted roadside assistant. We can be reached at 307-684-2274 any time.