Auto accidents happen and breakdowns can occur anywhere. When they do, you're going to be left with a vehicle that's simply not roadworthy. In the event you need a tow, Superior Towing & Recovery has the most reliable crew for emergency towing in Buffalo, WY, so you're never waiting long on the road.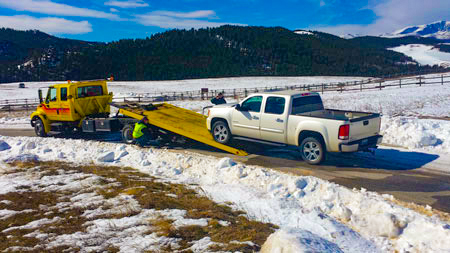 No tow job is too big or too small for our team to handle. From lightweight cars to the family motorhome, we'll be there when you need us. Our trucks are available to pull vehicles of any size, including equipment trucks. We also utilize air cushion recovery to lift semi-trucks and Class 8 vehicles that have fallen on their side.
Towing for Any Vehicle
If you need heavy duty towing service in Buffalo, WY, our friendly, professional drivers are here to help! Our full range of towing capabilities enables us to respond to any call and serve you no matter what you're driving:
Light duty towing: We quickly provide routine towing assistance for vehicles under 10,000 pounds. We aim to be your go-to towing service in Buffalo, WY for cars, trucks and SUVs.
Medium duty towing: Our team offers assistance for 5500-Series trucks and motorhomes under 30 feet long. We utilize medium duty flatbed trucks and medium duty under-reach trucks for these larger-than-average towing jobs.
Heavy duty towing: We're equipped to handle tow jobs for heavy equipment trucks, diesel motorhomes and semi-trucks.
With our highly skilled team and exceptional fleet of trucks, we are confident that we will create the most painless towing experience for our customers. We utilize state-of-art equipment technology and years of towing expertise to handle all of your towing needs. All of our services are available within 300 miles of Buffalo. For more information, contact us today by calling 307-684-2274.